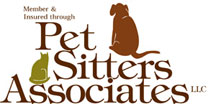 Professional pet sitters might cost a little more than using a neighbor or relative, but there's a few legitimate reasons why. One of the most important is that a reputable pet sitter will purchase liability insurance because we are human, your pets are animals, and things can and will happen.




Here's one possibility, as told to me by a former co-worker. She got a call at work from her husband, and I could hear the panic in her voice. Her nephew was in the hospital. He was 15, and his parents had been house and pet sitting for the next door neighbors in a nice, upper middle class neighborhood. The night before, he had had a friend sleep over. After his family went to bed, he and his friend found the key to the neighbor's house and thought it would be fun to go over there. While there, they found the liquor cabinet and the keys to the SUV in the garage. They had some drinks and went for a joyride. They passed a cop with no lights on, panicked when he tried to pull them over, and flipped the SUV.
As a pet sitter I have had to tell clients that their pet has gone ill, that their dog chewed on the gas valve and started a gas leak, that the dog got into the trash and we spent an hour cleaning cat litter from the carpet, and even that — our mistake — we got locked out. But should something like the above ever happen (which it likely wouldn't, as I have no children and I don't put identifying information on my client's keys), my insurance would cover it.
Here is the coverage my insurance through Pet Sitters Associates gives me and my clients:
$1,000,000 per occurrence, up to $2,000,000 annually for bodily injury, property damage, personal injury, advertising injury, products, and completed operations.
$100,000 annually for fire damage.
$15,000 per occurrence, up to $30,000 annually for pets lost, stolen, injured, or killed in your care
$1,000 per occurrence, up to $5,000 annually for vet expenses regardless of negligence.
$2,000 annually for lost keys and re-keying of customers homes.
$5,000 annually for medical expenses.